Total Knee Replacement in Sussex
Modern Knee Replacements are more akinn to an 8mm resurfacing (or recoating) of the damaged surfaces, taking away pain and straightening the leg. A good up to date knee replacement will give a knee that feels like your own at least most of the time, that is strong, stable and restores quality of life.
Knee replacement recovery is much quicker than it used to be - see this article in the papers here.
How much does a knee replacement cost?
£12, 312 all in - this cost can also be spread over 12 months interest free.
Fed up with the NHS process, rationing and queues?
The country seems short of money, unfortunately planned knee replacements are being rationed and yet it revolutionises the lives of people. If you wish to discuss your options or consider knee replacement then this is how:
1. Phone 0345 912 1000 for an appointment (generally within 36 hours)
2. Have an xray and discuss your options
3. Pick a date to suit you - with 2 weeks if you wish.
There is however considerable variation between surgeons. Accuracy of surgical implantation is key to a good outcome as is meticulous technique to minimise complications. Although it is called a knee replacement, it is more of a knee resurfacing with 9-11mm (about 3/8 inch) of the worn surface removed and a new surface or "coating" applied.
The original knee replacements were large hinged components. The operation involved putting in a new "working segment" and was a true knee replacement. Modern designs would be better termed knee resurfacing, preserving as much bone as possible and all bar one of the ligaments. However the old name "replacement"has stuck.
The operation takes about an hour to 1 ¼ hours. Your Knee replacement is a called a PFC Sigma, made by DePuy, a Johnson and Johnson company. It is the UK's leading knee replacement being used in 40% of knee replacements. It is designed for function and performance.
It has excellent long term results. The component on the lower end of the thigh bone is made from a highly polished and smooth cobalt chrome alloy. It is thin enough to mean very little bone is removed, but strong enough to allow full use afterwards.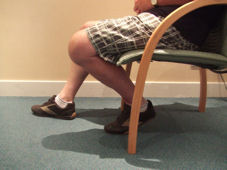 The surgeon removes the worn surface, shapes the bone to receive the component and when an accurate position and fit is achieved, it is then secured with antibiotic loaded orthopaedic bone cement. The back of the kneecap is resurfaced with special low friction, high molecular weight polyethylene, this improves outcome rather than leaving the back of the kneecap unresurfaced. The top of the shin bone is recovered with the same low fiction polyethylene, either with a supporting metal base or simply with a component made wholly from the polyethylene material. All are fixed with bone cement.
Lower Wear: Recent Advancements (August 2006) are that the supporting tibial (shin bone) base plate is now highly polished and the polyethylene inset has undergone modification reducing the wear in tests by 89%. These changes are expected to improve the long term results further in terms of the longevity of your new knee.
The PFC total knee replacement was developed in Boston, Massachusetts by Tom Thornhill and Richard Scott. I was taught the "tricks of the trade" during my training to optimise the results from it. Subsequently I gained appointment as a Joint Replacement Fellow in their unit at Boston. There I learnt from the surgeon designers, saw them carry out the operation and discussed technical aspects of the operation with them.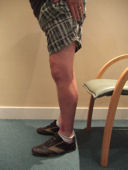 I have visited other leading Surgeons in the USA, Australia and the UK to see what they do that others don't.
The tips and tricks learned means that:
Your knee replacement surgery will be more reproducible
You are much more likely to have a good knee that will improve your quality of life
You will have a lower risk of complications
You will have a higher satisfaction compared to the national average